There is unique beauty in genuine leather furniture. They can be made to fit a variety of styles — though special care is required for these distinctive pieces. Here are three easy tips to make sure they remain classic, long-lasting pieces in your living space:
Clean regularly: It is crucial to clean leather furniture frequently to keep it fresh while preventing the piece from drying out or forming cracks. Use a specially designed leather cleaning solution, followed by a leather conditioner to keep the material soft and supple throughout its lifespan.
Avoid heat and direct sunlight: These can cause genuine leather to fade. It is best to keep these pieces far from windows or areas that receive direct sunlight and heat, including heating appliances and ovens. Use curtains or blinds to block sunlight if necessary.
Avoid sharp objects: Genuine leather is easily scratched or damaged, so keep sharp objects such as keys, buckles, or pet claws away from leather furniture.
Follow these steps, and your genuine leather furniture may last longer and remain damage-free. Follow The Classic Chair Company for more tips on furniture care.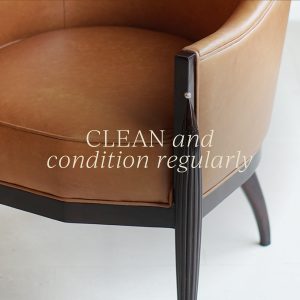 Explore our finest furniture at our showrooms. Flagship showroom at Phetchaburi branch / CDC branch / Contact for exclusive visits at Line OA: @theclassicchair
www.classicchair.com #TheClassicChairCompany #luxuryfurniture #thailand #interior4you #designinspiration #craftmanship #details #art #photooftheday